Teaching & Child Care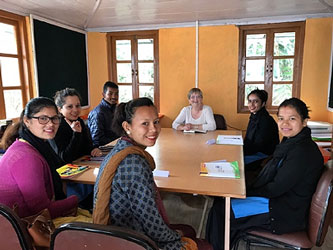 The school aims to develop teachers who are dynamic, innovative, open to new ideas, and genuinely care for the children. They are expected to develop a good rapport with their wards and communicate fluently in English It has been a challenge finding suitable teachers, to come and teach in the village. Urban teachers found it difficult to adjust to the requirements. Therefore, ignoring conventional qualifications, the school has established a training program for school leavers who are selected on the basis of their ability to speak and understand English.
Volunteers conduct short training courses, to improve classroom presence, spoken English and activity- based teaching methods. This is followed by "on the job" training.
The learning methodology is dynamic and is undergoing refinement with contributions by teachers, visitors and volunteer.
Child Care
Ever since the school started our focus has been on orienting teachers and support staff to care for the children with love and affection. We have strictly implemented zero tolerance to violence against children. Our policy is: No scolding, no punishment, no vindictiveness and No favoritism – only love and affection. This has brought about amazing results in the learning process and is visible in happy children who are cheerful, obedient, and keen to learn. The School has established a reputation as an educational center of excellence. In 2010 the school was awarded The Telegraph School Award for excellence, for "a school which cares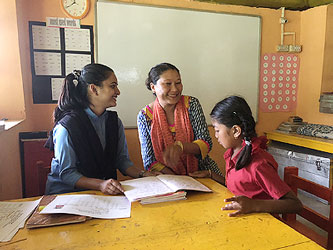 Interaction with parents
Transparency has been maintained by taking parents into confidence about all policies and the school budget. Parents attend regular one to one, and community meetings with the staff. Parent- teacher-children clubs in each class provide close bonds, for social intercourse, community work, and more. Parents have attended a bi-lingual workshop jointly with their children on moral values. They have also been motivated to participate in painting and decoration of class rooms and worked together with staff and children to organize a school mela for the community. These activities have resulted in a harmonious and happy environment between the school and the community, which has resulted in quality education, innovative ideas, and happy parents and children.
"Train the trainer" project
In order to cater for the professional development of our teachers and pass on the knowledge gained by us, to other schools, a 4 day workshop called "Train the Trainers" was conducted in April 2018 by Margot Sherwill and Ula Sheather from Benalla and Bairnsdale Rotary club, Australia with the assistance of our teachers and children. The aim was to introduce Margot's readers and train teachers from other schools in our methodology of teaching English to rural children. 10 teachers and educators from India and Nepal, attended. The event was conducted with great skill and dedication It was a great success
Our ultimate goal is to set up a learning centre for local teachers to enable us to provide the teaching staff to replicate the awake & shine model in the rural areas.
The school continues to demonstrate how a change in the foundation level education can be brought about, through a village school of the future.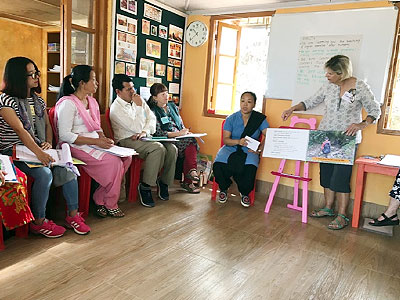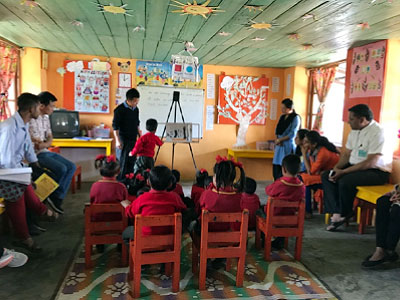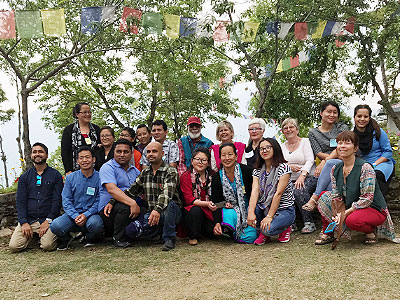 Post primary stage experiences and conclusions
It is significant that Children completing their primary education at Awake & Shine Primary School, are continuing to get admission in English medium schools in Kalimpong, on merit. Our current concept and teaching methodology, stands validated as all children passing out of our school are all doing well and were able to secure an average of over 75 % marks. One of them even topped her classes of over 55 children.
The Awake & Shine trust is trying to mobilize funds to provide scholarship to deserving children in the post primary stage.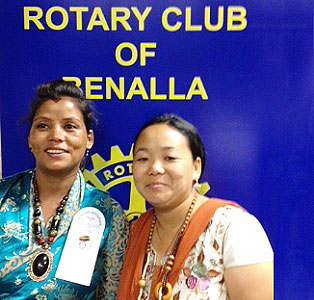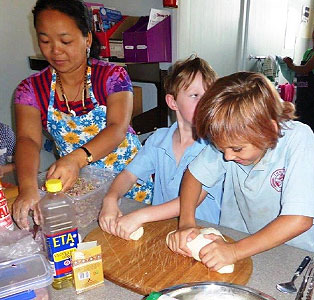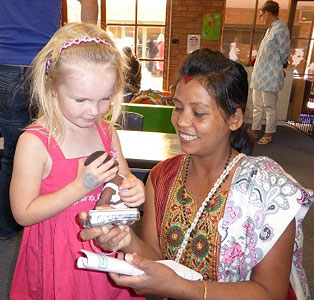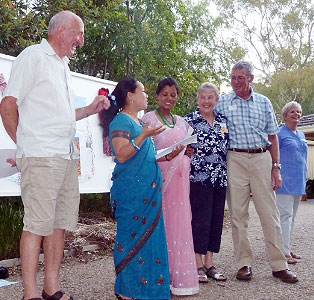 Role of Volunteers
To improve creative and activity- based teaching methods adopted by the school, we are continuously seeking motivated experienced volunteers, advisors and consultants. Members of Benalla Rotary Club in Australia, with a large membership of retired teachers, were introduced to the school through our integrated village tourism by Joy & Graeme Budd. Convinced by our efforts, they invited two of our teachers; Angela Lepcha and Pascaline Lepcha, in Jan- Feb 2014, to visit Australia and participate in a tailor-made program of cultural exchange and exposure to latest teaching methods. We are reaping the benefits of this trip now. There has been a distinct improvement in the teacher's ability in spoken and written English, self-confidence and motivation to assume responsibility. Angela Lepcha has assumed the responsibilities of our Principal, and Pascalina Lepcha is now head of the pre-nursery and Nursery Section.
Both are assisting in setting up the new school at Chota Suruk. This marks a landmark in achieving our goal of empowering local community members.
Funding
By interlinking with village tourism and encouraging the active participation of tourist guests in sponsoring individual children, the school is now near- sustainable, without ever having taken recourse to funding from government or financial institutions.
Funds for Infrastructure were provided by General "Jimmy: Singh" from his personal resources, spread over 8 years. He also funded operating expenses for the first 2 years.
Funds for operating the school
Funds are channelized through the Awake & Shine Charitable trust. 71 % of the funds came from Sponsors scholarships for individual children @ Rs 13000/USD 200, per year per child. Parents contribution has been build up from Zero to 23 % of the funds @ Rs 400-500 per month per child. Contributions from the founder- settler provide for 6 % of the funds
Funding for continuing education for deserving children
Sponsors have been persuaded by our quality education to provide scholarships to deserving children to continue their education at boarding schools at Kalimpong and surroundings. However only 5 children are being supported. We are exploring possibilities of raising funds to institute scholarships for more deserving children for continuing education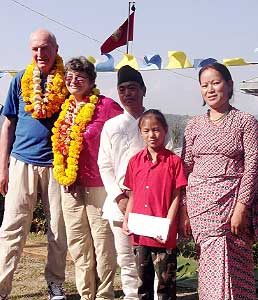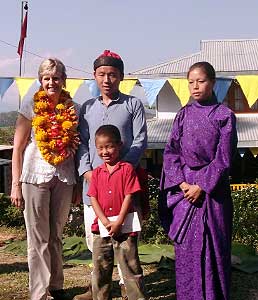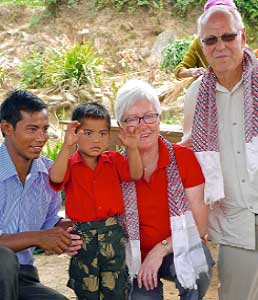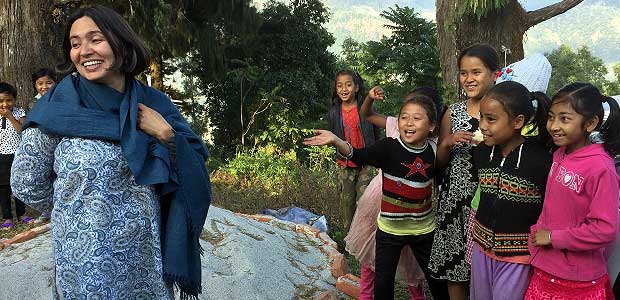 Role of sponsors
By interlinking with village tourism, and encouraging the active participation of tourist guest in sponsoring individual children, the school is now near- sustainable, without ever having taken recourse to funding from government or financial institutions. Our children's sponsors, gives us the strength to continue with our mission. We convey our grateful thanks to one and all.
All Rights Reserved [Awake & Shine Primary School]. Website Design and Development Service Provided By
Techno Developers Group
.